The I Ching and Yi Jing apps were designed by Brian Arnold, based on an I Ching HyperCard stack that he developed in the 1980's.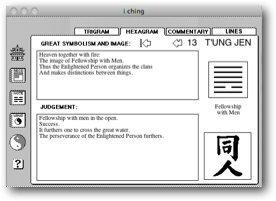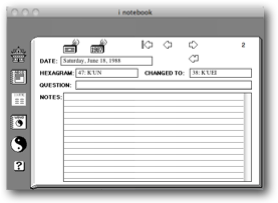 The coin tossing simulator uses Box2D, a two-dimensional rigid body physics engine developed by Erin Catto, and is copyright © 2007-2008 Erin Catto.
The app icon was designed by Joanne Meirovitz, JM Design. Other icons were designed by Eddie Wilson, Eddit Incorporated and by Joseph Wain, glyphish.com. 
Reference code and inspiration for the yarrow stalk simulator was provided by Hiram. The Circle of the Protectors oracle method was developed by Stephen Karcher. The 3 Dice oracle method was devised by Michael Hurn.
The original Chinese book text is widely available. The German translation is by Richard Wilhelm, originally copyright 1926. The English language text is an interpretation based on direct personal experience with Yi Jing based on other widely available English language translations. 
The Japanese translation is by Yo Fujiwara.
The French translation was edited by Denis Callé and François Filliettaz.
The Portuguese translation was edited by Firmino Rocha.
Other book translations are licensed as described on the Books page. More book and language translations may be made available in the future.
If you are a book author or publisher, please see the Authors and publishers page for more information on how to include your translation.
This web site was created using Sandvox by Karelia Software. See our recommendation on SandvoxSites.com.