Southborough MA - Flat Earth Studio reports that Brian Arnold was recently in the spotlight in the Technology section of the Massachusetts MetroWest Daily News:
http://www.dailynewstranscript.com/business/technology/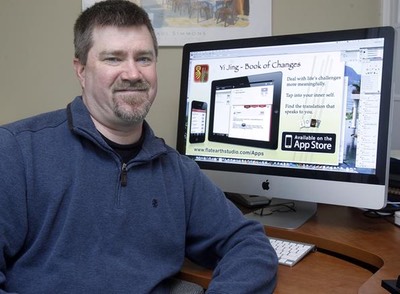 In the interview, Brian Arnold answered questions regarding Flat Earth Studio and the Yi Jing app.
Yi Jing was chosen as an iTunes App Store Staff Selection in May 2009, and again in September 2011. Each Yi Jing update continues to receive highly enthusiastic customer reviews.
Located in Southborough, MA, Flat Earth Studio develops premium lifestyle apps for the iPad, iPhone, iPod Touch and other mobile devices. All Software (C) 2009-2011 Flat Earth Studio LLC, All Rights Reserved. Apple, the Apple logo, iPad, iPhone and iPod are registered trademarks of Apple Computer in the U.S. and/or other countries. Book text contents are the copyright of the respective holders (see web site for details).