Southborough, MA - Flat Earth Studio is pleased to announce a new app, The I Ching or Book of Changes, now available from the iTunes App store.  This app includes Princeton University Press's all-time bestselling edition of The I Ching, or Book of Changes, by Richard Wilhelm, edited by Hellmut Wilhelm and translated by Cary F. Baynes. The New York Times says, "Princeton's Bollingen edition [is] still regarded as the best and most authentic by I Ching aficionados."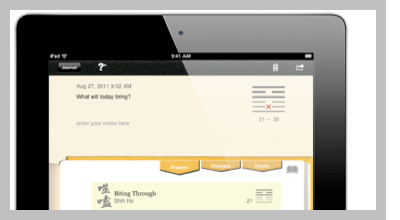 The I Ching, or Book of Changes, includes many interactive features, including a coin and yarrow stalk oracles , an integrated journal and advanced options for analyzing the structure of the hexagram. The complete Wilhelm/Baynes text from Book I is provided for interactive readings. Books II and III are available for additional in-app purchase.
Supported Languages
English
Supported Devices
Compatible with iPhone, iPod Touch and iPad
Requires iOS 4.0 or later
Enhanced for iOS 4 Retina Display


Pricing and Availability
The I Ching or Book of Changes is available for $4.99 (USD), through the Apple App Store. An evaluation copy is available upon request. Books II and II are available for $4.99 (USD) each. Please contact us for interview and/or commentary.
Princeton University Press is the publisher of the Bollingen Series and the Collected Works of C.G. Jung. The Press is an independent publisher with close connections, both formal and informal, to Princeton University.
Located in Southborough, MA, Flat Earth Studio develops premium lifestyle apps for the iPad, iPhone, iPod Touch and other mobile devices. All Software (C) 2009-2011 Flat Earth Studio LLC, All Rights Reserved. Apple, the Apple logo, iPad, iPhone and iPod are registered trademarks of Apple Computer in the U.S. and/or other countries. Book text contents are the copyright of the respective holders (see web site for details).