Southborough, MA - Are you excited? We are!
We now have a FREE version of the What the Walrus Knows App! It's got 15 fabulous Beasties to help guide you including honey badger, elephant, owl and horse. Please help us spread the word, will you?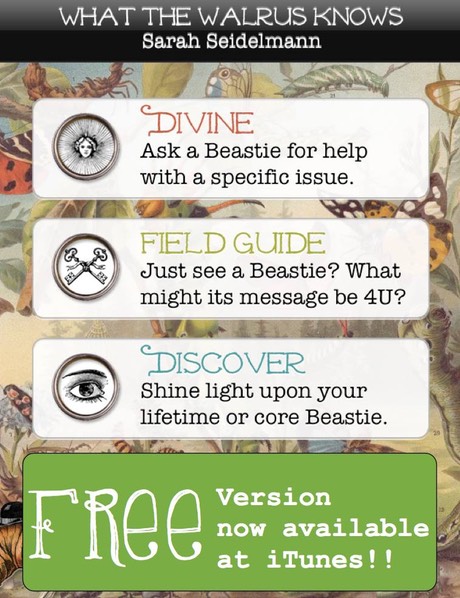 Flat Earth Studio LLC today announces that a FREE version of Sarah Seidelmann's app, based on her book, "What the Walrus Knows: An Eccentric's Field Guide to Working with Beastie Energies," is now available.
"The inspiration of the Beasties can now spread like a wildfire...the FREE version is here!" said Sarah Seidelmann. "Each Beastie has guidance to help YOU align with your highest and best self. Step into your own brand of awesomeness with help of the wild! Word on the trail is that kids and teens love it too....it's fun for the whole tribe from age 3 to 103!"
A single in-app purchase unlocks all of the features found in the full version, including 150 more Beasties, an integrated journal, and a 16 minute guided shamanic meditation into the lower world, to help you find and connect with your core Beastie.
Sarah Bamford Seidelmann, MD, is a Board-Certified physician who left her pathology practice in order to live out her destiny as a salty goader of humans. In her own life and in her practice as a life coach, speaker, and writer, she loves to ask the question, "How good are you willing to let it get?" 
Learn more about Sarah online at FollowYourFeelGood.com.
Supported Devices
Compatible with iPad, iPhone and iPod Touch
Compatible with iPhone 5s and iOS 7.1
Requires iOS 6 or later

, looks fabulous on iOS 7
Pricing and Availability
"What the Walrus Knows" is available for FREE through the Apple App Store. A single in-app purchase for $4.99 (USD) enables all of the features found in the full version. Please contact us for interview and/or commentary.
Located in Southborough, MA, Flat Earth Studio develops premium lifestyle apps for the iPad, iPhone, iPod Touch and other mobile devices. All Software (C) 2014 Flat Earth Studio LLC, All Rights Reserved. Apple, the Apple logo, iPad, iPhone and iPod are registered trademarks of Apple Computer in the U.S. and/or other countries. Book text contents are the copyright of the respective holders (see web site for details).