Southborough, MA - Flat Earth Studio today announces the arrival of Yi Jing for iPad in iTunes Store. This iPad update sports all of the same features of the iPhone version, with a new layout and new features designed to take advantage of the unique characteristics of the iPad.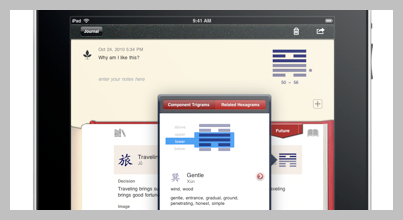 New features include a new 4-coin oracle and yarrow stalk oracle, support for copying book text and journal items, enhancements to the Library and Store, a Dutch book and localization, and the complete Wilhelm text in German for in-app purchase.
Yi Jing is the definitive mobile version of I Ching, the Book of Changes, done the way it was meant to be experienced. One of the oldest books written has been re-crafted to take advantage of the unique features of your mobile device. One single App contains all of the features you need, including a question oracle, an integrated journal, and book text in multiple translations and interpretations. By providing choice in translations, Yi Jing enables users to find the I Ching translations that speak most directly to them.
Yi Jing was chosen as an iTunes App Store Staff Selection in May 2009. Each Yi Jing update continues to receive highly enthusiastic customer reviews.
Supported Languages
English, deutsch, nederlands, français, español, português, 日本語, 中文
Supported Devices
Compatible with iPhone, iPod Touch and iPad
Requires iPhone 3.2 Software Update 
Enhanced for iOS 4 Retina Display
Pricing and Availability
Yi Jing, is available for $3.99 (USD) through the Apple App Store, and the iPad version is a free update for customers who have already purchased Yi Jing for the iPhone or iPod touch. An evaluation copy is available upon request. Additional books are available as in-app purchases. Please contact us for interview and/or commentary.
Located in Southborough, MA, Flat Earth Studio develops premium lifestyle apps for the iPhone, iPod Touch and other mobile devices. All Software (C) 2009-2010 Flat Earth Studio LLC, All Rights Reserved. Apple, the Apple logo, iPhone and iPod are registered trademarks of Apple Computer in the U.S. and/or other countries. Book text contents are the copyright of the respective holders (see web site for details).